Cloud Platform
Brand :hkt
Product origin :china
Delivery time :30D
Supply capacity :10K
LoRaWAN Middleware(Development Kit)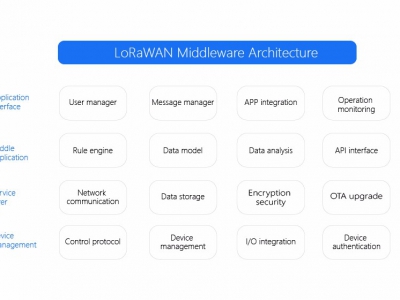 LoRaWAN middleware(development kit)of HKT Technology has achieved protocol connection and data analysis between node and gateway, as well as provided a complete open API interface based on the MQTT interface and rest style.
Users don't need to pay attention to the technical details of front-end hardware and transmission protocols.
However, the API interface and the MQTT protocol will be dealt directly with the user, and user only need to develop a standard MQTT client.
Winext also provides source code references for these standard clients and interface invocations.
Cloud Platform Features:
1. Data transfer and management, two-way transmission of data, multiple encryption (to ensure the security of transmission), and carry on transmission flow statistics, transfer status monitoring;
2. Provide gateway management and configuration interfaces;
3. Provide terminal node management and configuration interfaces;
4. Provide standard configuration interfaces for enterprise platforms, rest API interface management equipment;
5. Cloud platform communication, which can format and forward data from terminal nodes in real time;
6. Provide an MQTT subscription publishing mechanism that subscribes to topics of interest to users;
7. Achieve standard LoRaWAN protocol;
8. Support adaptive data rate (ADR);
9. Support access to a large number of terminals;
10. Provide standard rest API interface management facilities for enterprise platforms
11. HKT LoRaWAN middleware is compatible with the international standard LoRaWAN protocol, so it's with good flexibility, high versatility and stability, high reusability, and its system deployment is very flexible and can make the user's development of private cloud or server more efficiently.
Get the latest price? We'll respond as soon as possible(within 12 hours)